Why ITAM?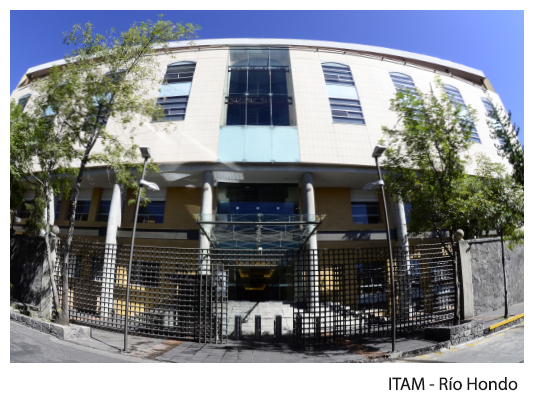 ITAM is a world recognized center of excellence. Ranked amongst the top universities in Mexico and all throughout Latin America.  ITAM is an institution of higher education, offering high-level training in Economics, Applied Mathematics, Actuarial Sciences, Law, Engineering, Political Science, International Relations, Business Administration, Finance, and Accounting.
ITAM's reputation is built on its prestigious programs, rigorous academics, highly qualified faculty, and research excellence.  ITAM has consistently attracted the most talented students around the country because top graduate and PhD programs around the world recognize the value of an ITAM degree, and private and public-sector employers actively seek graduates of ITAM.
With a student body of approximately 5,500 undergraduate and 800 graduate students, and over 230 full-time faculty members, educated at the most prestigious universities worldwide, close interaction and collaboration with your professors will be an integral part of your experience at ITAM.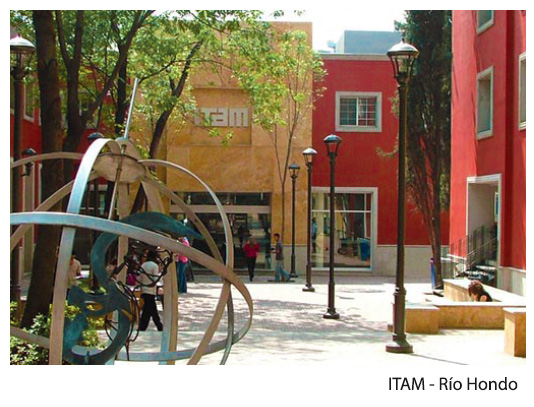 As ITAM continuously strengthens and refines its programs, we ensure that our students are capable of successfully pursuing their goals when they leave school. For many years now, our alumni have played central roles in the development of Mexico, in key positions such as Central Bank Chairmen, Secretaries of State, Members of Congress, CEOs, CFOs, successful entrepreneurs in both social and for-profit ventures and distinguished academics at Mexican and international universities.  Alumni are easily accessible to students and return to campus often to lecture and network.
We recognize the value and contributions that International Students bring to our already diverse community.   In the past two decades, our exchange programs have grown to over 100 partners and globalization has become embedded in our academic life.
As an International Student, you will be fully supported by our dedicated staff in the International Office to ensure you settle comfortably into student life at the University and enjoy your time in getting to know Mexico.
Accreditations and Recognition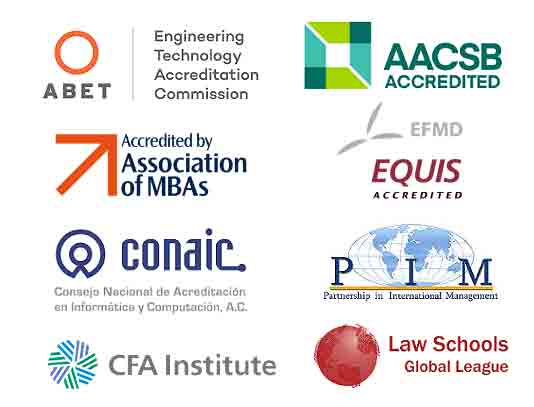 All ITAM undergraduate, masters, and specialization programs are fully recognized and registered with the Mexican Ministry of Public Education.
All ITAM Business Programs hold the AACSB and EQUIS accreditations completing the "Triple Crown" with the AMBA accreditation of its Masters Programs in Business.
ITAM's Industrial Engineering and Computer Engineering and Mechatronics Engineering programs are accredited by ABET (Accreditation Board for Engineering and Technology)
ITAM was the first Mexican university to enter the prestigious Partnership in International Management PIM, a consortium of over 60 graduate programs in Business Administration from all over the world.
ITAM is the first CFA Program Partner in Mexico.
Fulbright Scholarship Awards: In the history of the program in Mexico, ITAM has produced one of the highest numbers of graduates in Mexico to be selected for this prestigious scholarship for graduate and PhD studies in top and Ivy League universities in the US, Europe and Asia.
Members of the Law Schools Global League (LSGL).
Why study in Mexico?
Mexico City, the cultural, financial, governmental and entertainment capital of the country is also one of the oldest most interesting cities in the world. Mexico City has it all: history, culture, some of the world´s best cuisine, museums, forward-thinking design, entertainment, good weather year-round, and a strategic geographical position that makes it an easy gateway to all colonial cities and beautiful beaches around the country.
Undoubtedly Mexico faces complex challenges that come with being one of the largest and most populated cities in the world. Nevertheless, with some precautions and good orientation you will be able to explore and enjoy the city in all its grandeur.